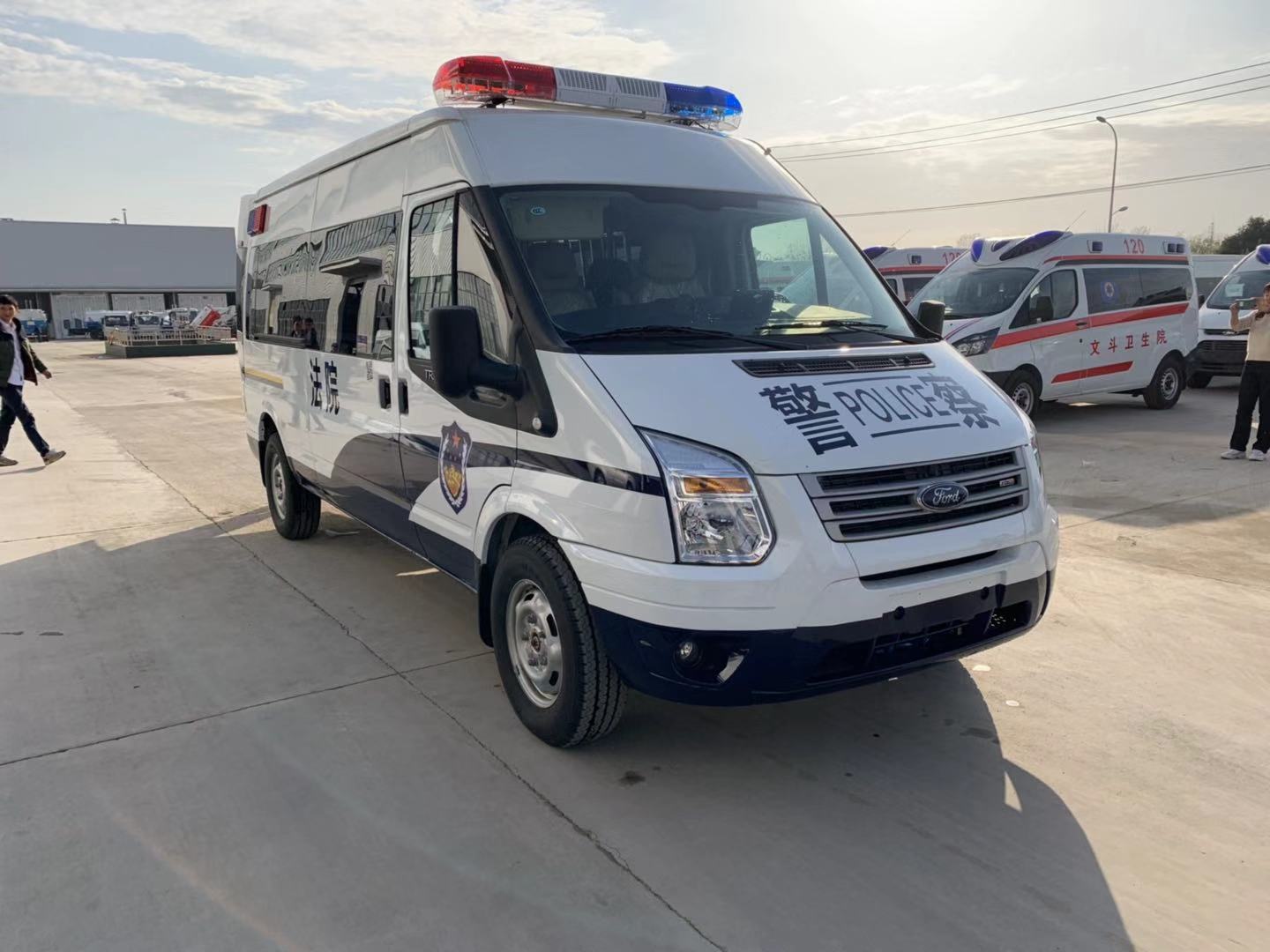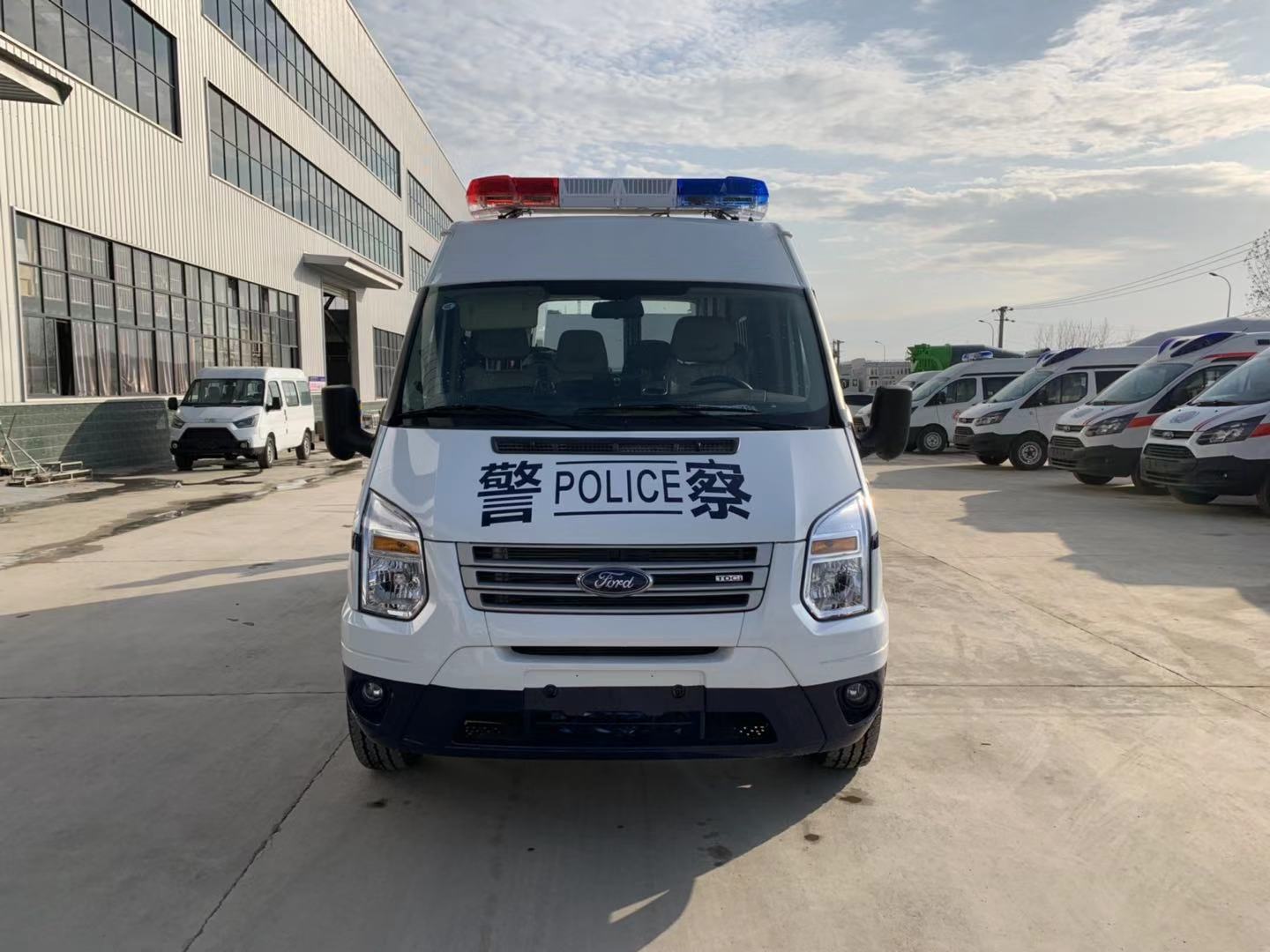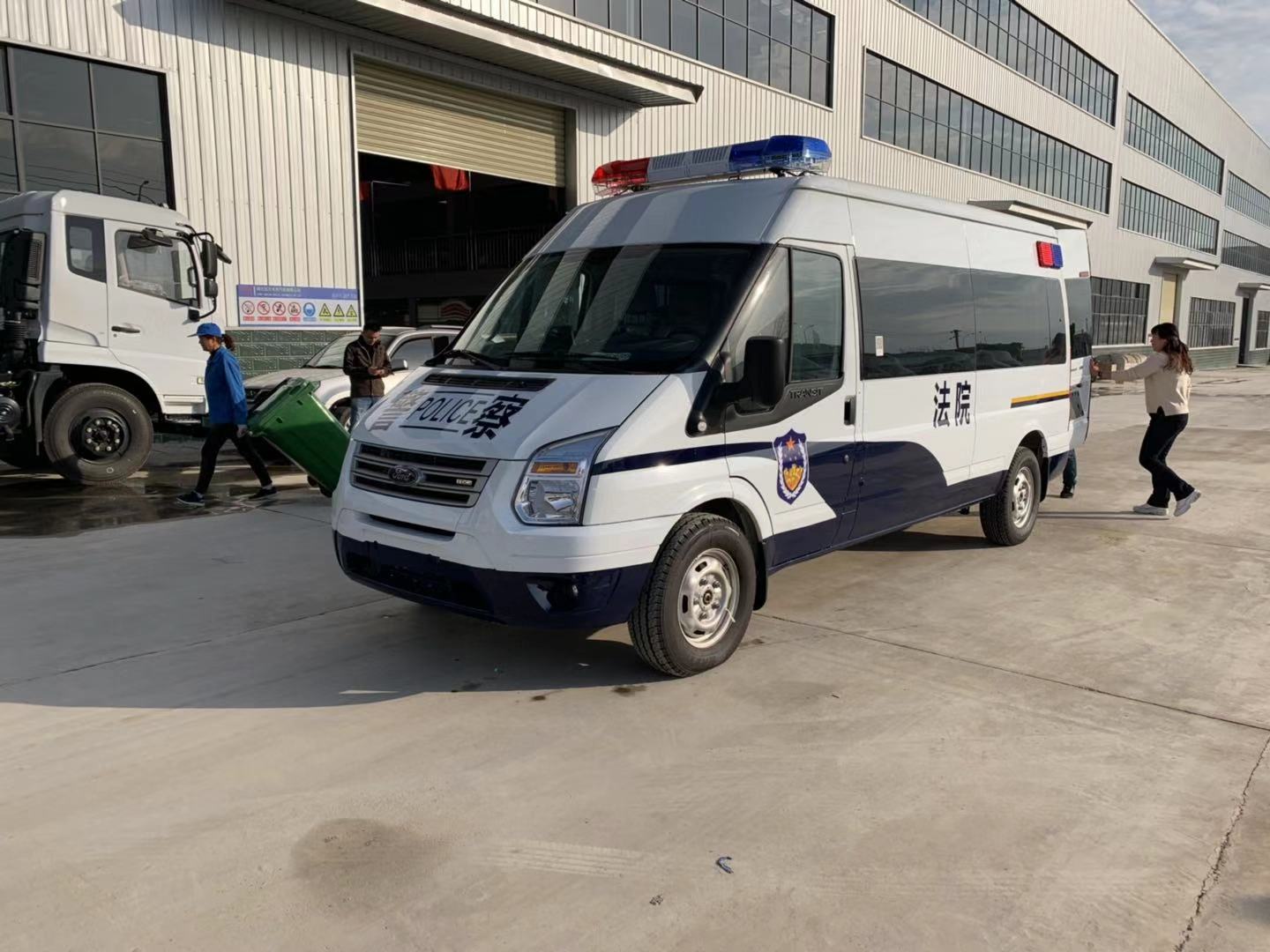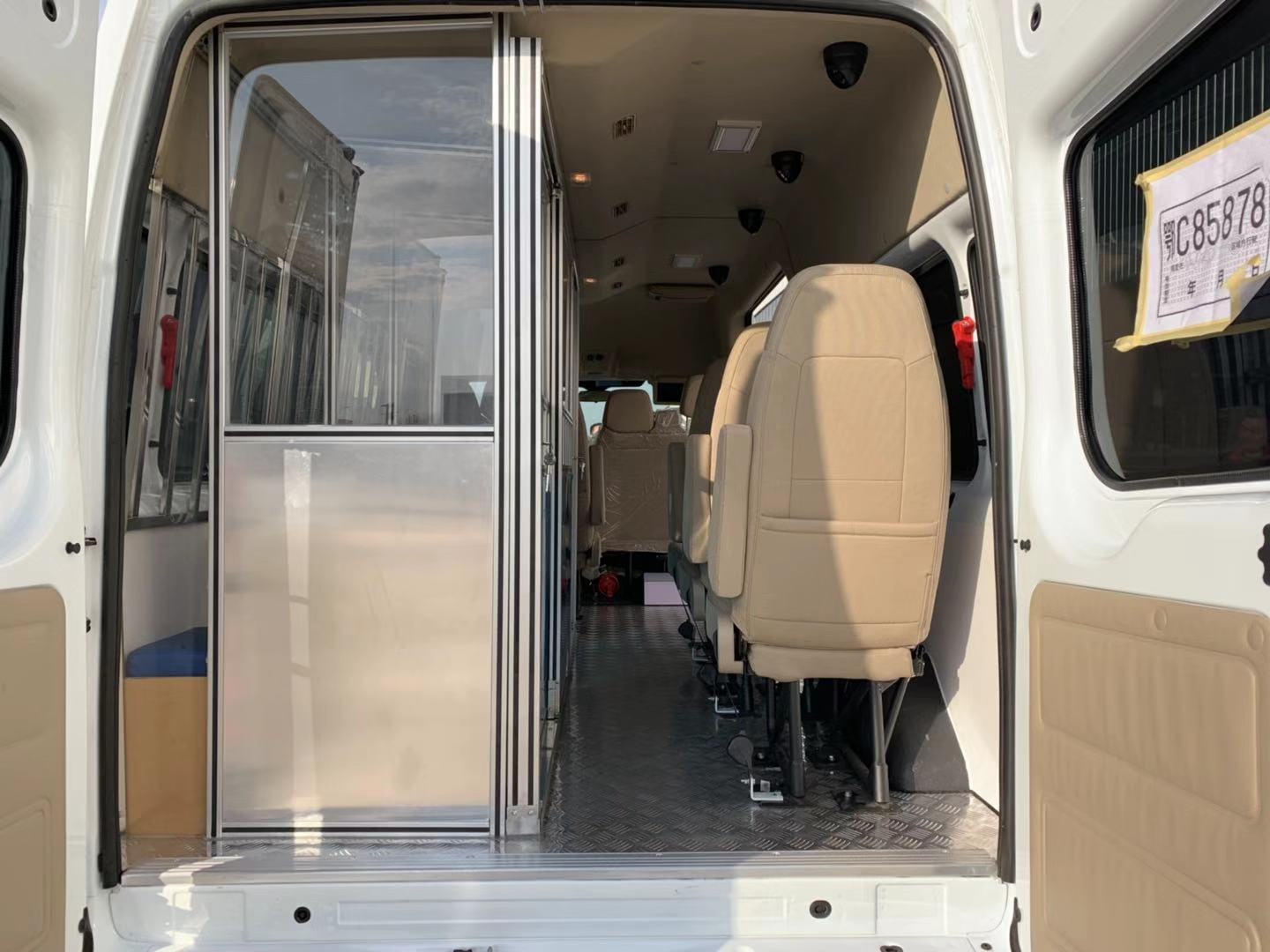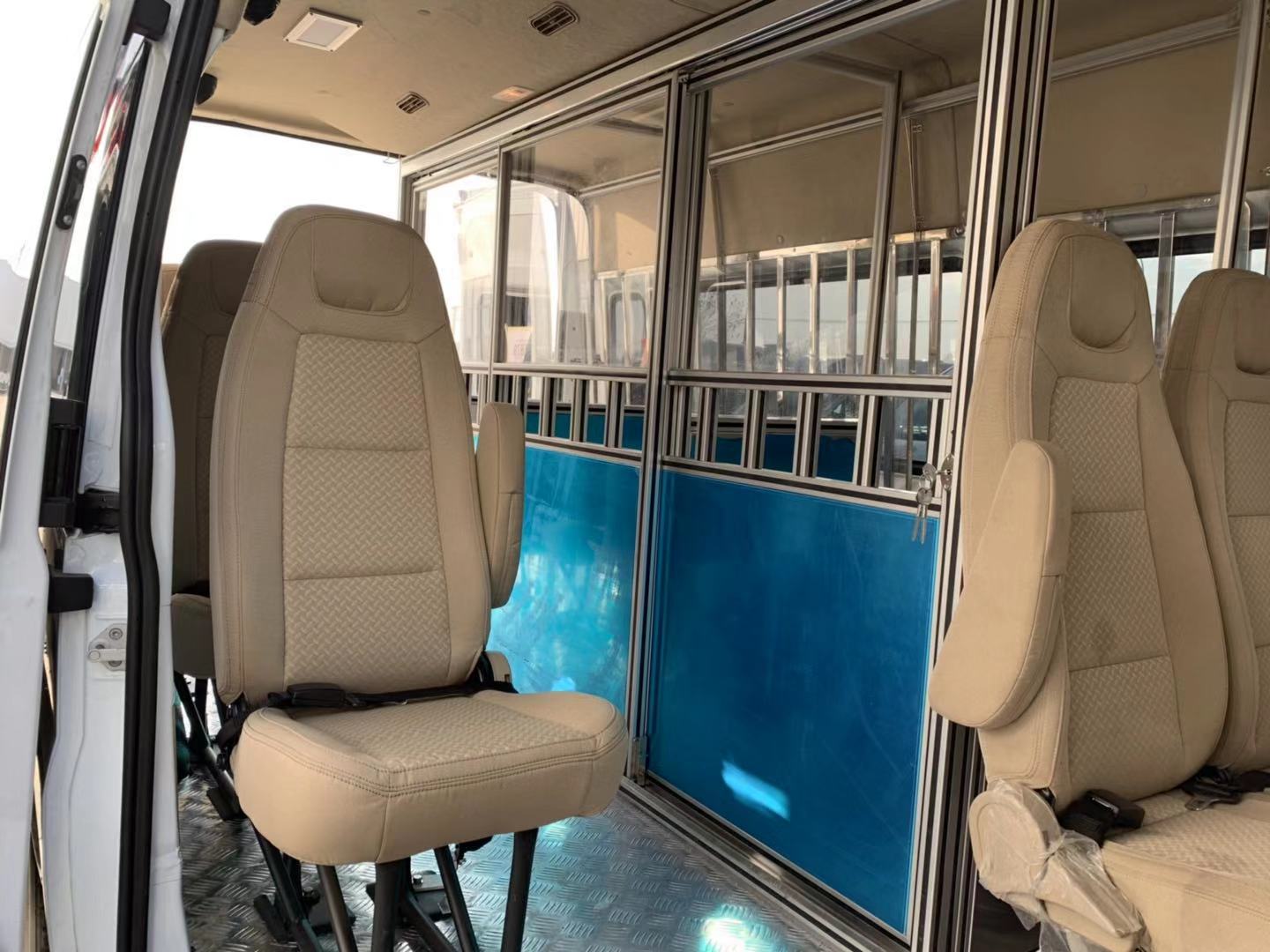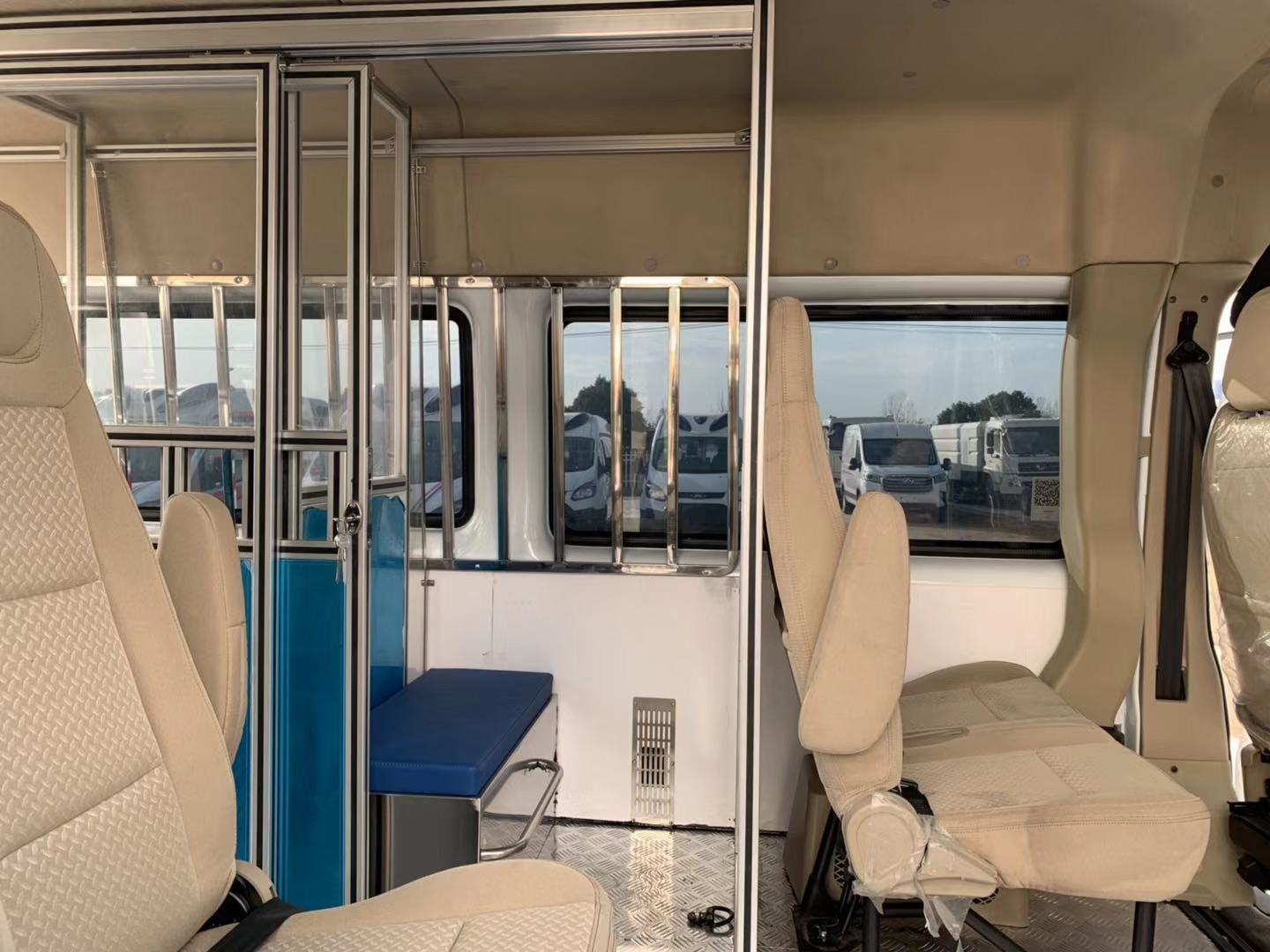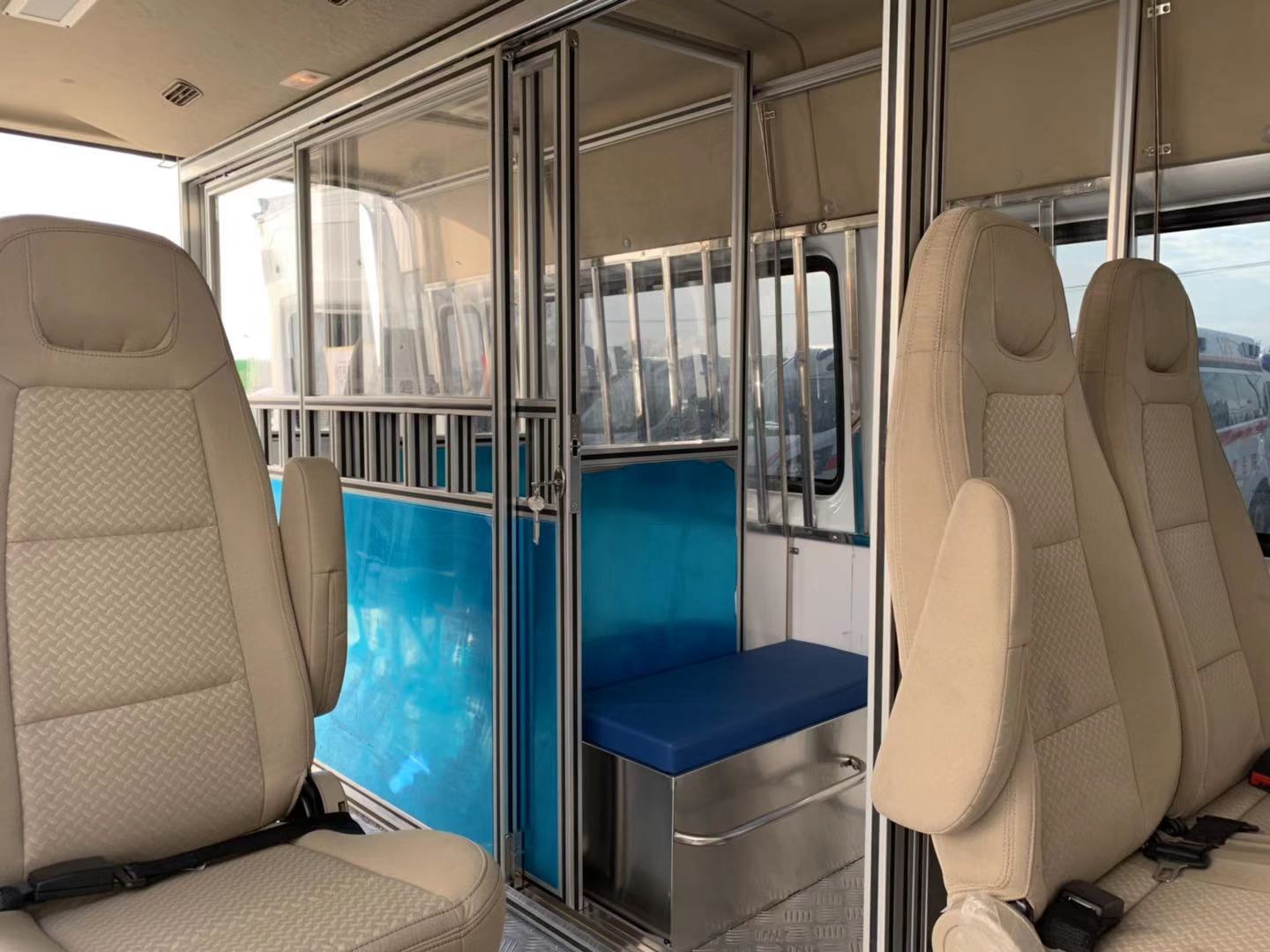 JMC Ford Transit Court 's prison car manufacturer 's standard configuration: long row flashing warning light siren assembly; exterior identification; stainless steel prison cage; long flap seat; flashing lights for parking spaces; fixing ring on the heel; Plexiglass; rear compartment to isolate the cage. Product use: Suitable for public security, judicial escort prisoners and performing tasks.

The prison car is mainly used by special departments such as public security, prosecution, law, department, and security. The Ford off-road vehicle is modified, and functional configurations such as a reverse monitoring system, an air exchange system, a reporting system, and a communication system are added. The car window is equipped with anti-smashing steel wire netting. The cell is made of closed stainless steel. The cell is equipped with 6 prison chairs. The prison chair has restrictions to lock the movement of prisoners. Two guard seats are provided at each end of the cell; The cell is equipped with surveillance cameras to monitor prisoners' activities to prevent prisoners from escaping and looting prisoners. The vehicle is powerful and mobile, with strong off-road capabilities.
Function configuration:
1. 6 prisoners can be escorted at the same time;
2. Communication system: The system establishes communication with the command center within the coverage of the 350MHz private network;
3. Office system: On-site office is available;
4. Camera monitoring: The system uses cameras to monitor the surroundings of vehicles, office areas in the car, and cell areas. The equipment on the car can display and store the camera data in real time;
5, car audio and video integrated machine: with DVD / GPS / reversing rear view function.
6. Display system: with strong sound and light display function.
7. Power supply system: The system is composed of on-board battery, external utility power, and inverter power supply. It provides reliable AC220V AC and 12V DC power for on-board equipment.
[Main technical parameters of Ford Transit V348 long axle mid-roof car]
Product trademark Cheng Liwei announcement batch 315
Product name V348 long axle mid-roof car
Model CLW5041XQCJ5 prison car Model No. ZN9G061902D
Total weight (Kg) 3700
Dimensions (mm) 5780 × 2000 × 2360, 2480,, 2580
Curb weight (Kg) 2450 Rated passenger (person) 3-15
Approach / departure angle (°) 22/24 Front / rear overhang (mm) 933/1097
Number of leaf springs-/ 2 Steering type Steering wheel
Number of shafts 2 Wheelbase (mm) 3750
Number of tires 4 Tire specifications 215 / 75R16LT
Front track (mm) 1740 Rear track (mm) 1704
Axle load (Kg) 1700/2000 Maximum speed (Km / h) 145
Other vehicles are equipped with special devices such as police lights and prison cages. In the middle of the roof: no roof equipment is 2360mm high, only the forehead position of the special vehicle is 2480mm high, and the optional ventilator fan is 2490mm high. Headlights, single or multiple flashing warning lights can be installed around the roof, blind windows or small glass windows can be selected for the rear side windows and tail door windows. The maximum net power of the engine is 99kw, ABS model: 6C11 2M110 A *, manufacturer : Bosch Auto Parts (Suzhou) Co., Ltd. Optional number plate bracket with chassis model. Engine DURATORQ4D225H fuel consumption declaration value (L / 100km): 12.
Ford Transit V348 Long Axis Mid-Top Prisoner [Chassis Technical Parameters]
Chassis model JX6581TA-M5 Vehicle Jiangling Motors Co., Ltd.
Fuel type Diesel
Emission Standard GB17691-2005 Country V, GB3847-2005
Engine model DURATORQ4D225H Power (Kw) 100
Engine manufacturer Jiangling Motor Co., Ltd.Displacement (ml) 2198
Chassis configuration: Chassis configuration: Transit V348 prisoner car manufacturer quotes, adopts Transit light passenger car original original chassis, driving mode rear fuel type is diesel, premium car class interior, 3750 wheelbase, Jiangling 136 horsepower diesel engine, 6-speed manual transmission Box, 215 / 70R15LT vacuum tire, direction assist, ABS, speed 145km / h, original big warm air conditioner, power window, power window rearview mirror, central control door lock with remote control function, fuel consumption is only 7.6L / km , Fuel tank volume 68L with reversing image, driving recorder.
Upper body configuration: 3-15 people can be seated, the overall dimensions of the vehicle are 5780X 2000X2490, long row warning light alarm system, transparent grille plexiglass on the front grille of the prison cage; the rear partition of the prison cage, fetter fixing ring; long flap base Chair; "Public Security" logo affixed to the outside, sprayed with blue paint, wide rear foot pedal, rear compartment can optionally be equipped with air-conditioning roof flashing and lighting system around, optional internal monitoring or other configurations can be customized according to requirements
For more details about each ambulance, please contact Cheng Li Group Special Vehicle Sales Director: Shen Juan
Manufacturer's 24-hour production and sales hotline: 159 9790 6782 (same number on WeChat)
Cheng Li Group, the high-end ambulance manufacturers: design, production, sale and train service to customers around the world dedicated to the production sections of high-end ambulance: Mercedes-Benz Vito, sea lions large net importer of Toyota, Mercedes-Benz Sprinter 315, Ford's new Transit V362 All ambulances, all Ford's new generation V348, Foton G7, G9, Dongfeng Yufeng, SAIC Chase, JMC Teshun, Jinbei, and other ambulances! Various types of mother and infant ambulances, various types of mine ambulances, civil ambulances, food and drug gas detection vehicles, disability transportation vehicles, medical medical vehicles, military and police prison vehicles, mobile service vehicles, emergency rescue gas defense vehicles and so on.
Crude oil pump,High Quality Crude oil pump,Crude oil pump Details, CN
Botou Honghai Pump Co.,Ltd , http://www.pumphonghai.com