Following Iveco's launch of the Iveco Bodi series of high-end light passengers and Yuejin Oka products at its Nanjing base earlier this year, its heavy-duty truck base in Hongyan has also recently introduced new PowerTech and T-class typhoon heavy-duty trucks. The overall development trend from the car to the heavy vehicle sector. The new Pow er Tech and T Pa series products are improved by Iveco using its advanced European heavy-duty truck technology from various perspectives such as cab and powertrain.
At the 6th China Automotive Industry Forum 2008 recently held, Lu Wei, Director of Corporate Development at Iveco China Office, presented the title of "Focus on the Commercial Vehicle Industry: Iveco in China" on behalf of Wan Weiyi, General Manager of Iveco China Office. Speech on Sustainable Development Strategy. He said in his speech: "At present, despite the impact of the international financial crisis, the sales of China's commercial vehicle market are not very satisfactory, but we believe that this impact is only temporary, and Iveco is still very optimistic about the future development of China's commercial vehicle market. Lu Hao said that in 2012 the overall commercial vehicle market in China will climb to 3.5 million vehicles with an annual growth rate of approximately 15.2%. From 2012 to 2015, it will maintain a steady growth trend, with an annual growth rate of approximately 7%, and will achieve a scale of 4.3 million vehicles in 2012.
He clearly stated: "In the face of such a potential commercial vehicle market, we will also actively promote China's priority strategy to achieve faster development in the Chinese market. Take Power Tech as an example, this product is equipped with Iveco's advanced Cursor 9 engine and Stralis cab body, combined with the original vehicle chassis platform built in China, has undergone some transformations according to the special needs of the Chinese market, and can achieve the country's three standard emissions, in terms of power, operability, safety, comfort and cost, etc. With strong performance, we believe this product will be welcomed by Chinese consumers."
In the speech, Director Lu Yong also specifically emphasized the importance of "sustainable development" and stated that Iveco will realize its strategy of sustainable development in China in terms of personnel and products. In terms of personnel, in order to cultivate more outstanding local leaders, Iveco launched a project named "Common Future Road (CFW)". Since the start of the project in September 2006, it has trained a number of senior managers and Excellent engineering and technical personnel promoted the smooth development of its joint venture business; in terms of products, Iveco will actively introduce advanced energy-saving and emission reduction technologies in Europe. According to reports, the products of its joint venture companies have successfully reached the national standard and become the vanguard of energy saving and emission reduction in their respective market segments.
Flip Clock Series, fully designed and developed by Mid-Clock R&D team, CE and RoHS Marking approved.
Flip Clock can flip down the card automatically, with 48 pieces of cards on the left and 60 pieces of cards on the right. Both AM/PM and 24 hours display are available. It depends on what we print on the card.
Since the time Flip Clock was developed, it has been one of the best-selling products till today. The way it works is mysterious. It can always inspire you when you are staring at it. At least, the Flipping can tell you that time is Flying.
We have extended different series for Flip Clock, such as Classic Retro, Box Flip, Building Series, Funny Stuff. Different series have different sense of feelings for different occasions.
We can provide customized service with ordering a MOQ at 300PCS, not only printing the LOGO on it but also customize the Font/Colors/Content of the cards, even the pictures, as long as you like, can be printed on the cards. The color of the metal frame can be customized too.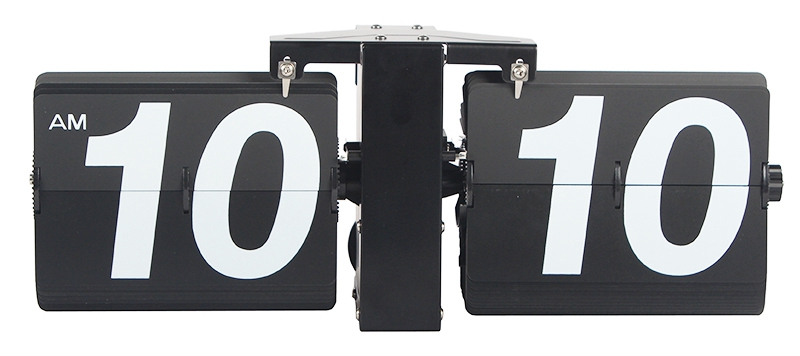 Flip Clock Factory in China, China Flip Clock Factory. Flip Number Clock Factory, Flip Down Clock factory
Guangzhou Huan Yu Clocking Technologies Co., Ltd. , https://www.mk-times.com