Model NO.:
28, 32, 50, 60, 76, 90, etc
High Frequency Wedling Pipe Making Machine for Steel Pipe Production1.1 Summary:
This equipment is specially used for producingΦ 13-Φ 50.8mm(1/2'' 2''), δ 0.6-2.0mm high-frequency straight seam welded pipe and corresponding square pipe and special-shaped pipe(δ ≤ 1.5mm). The composition of equipment is from uncoiler to fixed length cutting saw. Rolling speed can be adjusted correspondingly within suitable range of pipe diameter and wall thickness.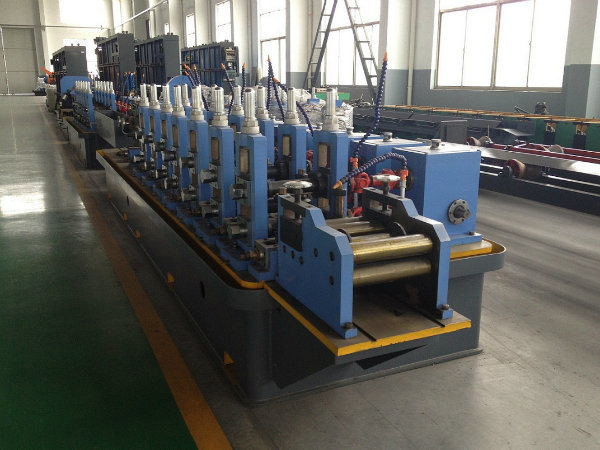 1.2 Applicable material:
(1)Hot or cold-rolled steel strip (As per GB700-88 or GB1591-88)
(2)Material: Low-carbon steel, low alloy steelδ S≤ 345Mpa, δ B≤ 610Mpa
(3)The thickness of steel strip: 0.6-2.0mm (As per GB708-88)
(4)The width of steel strip: 40-160mm
(5)I. D. Of steel coil: Φ 450-Φ 550mm
(6)O. D. Of steel coil: Φ 800-Φ 1200mm
(7)Maximum weight coil: 1000kgs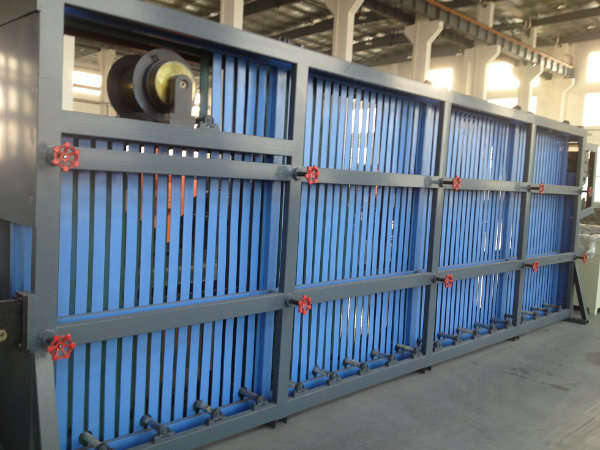 1.3 Dimension range of processing steel pipe:
(1)O. D.: Φ 13-Φ 50.8mm(1/2'' 2'')
(2)Wall thickness: 0.6-2.0mm (square pipe and special-shaped pipeδ ≤ 1.5mm)
(3)Length: 4-8M
1.3 Milling speed
: 20-90M/min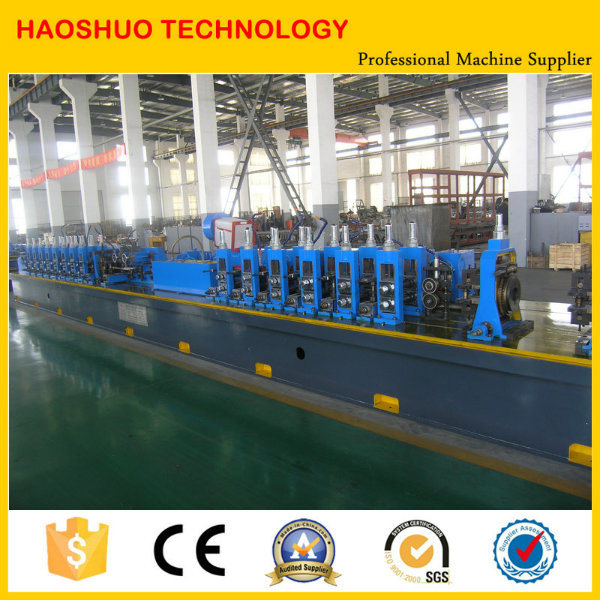 Work Flow:
Uncoiling -- shearing and butt welding -- material accumulating -- flattening forming system -- high frequency induction
Welding Machine
-- inside and outside burr removing frame -- water cooling system -- sizing system -- leveling system -- speed testing -- Turkish frame -- saw cutting -- running out table
Main components:
1 Uncoiler
2 Accumulator
3 Shearing and
Butt Welding Machine
4 Forming machine
5 Roller System of Forming
6 Seam Guide
7 High Frequency Induction Welding Machine
8 Roller System for Moving
9 Burr Removing Frame(Inside and outside)
10 Water cooling system
11 Sizing machine
12 Roller System of Leveling
13 Speed Testing Wheel
14 Turkish Frame
15 Auto flying saw controlled by Computer
16 Run-out table
17 Electric control Equipment
18High frequency welding machine
Pipe mill specs
Machine
  Model
 Pipe Diameter
 Pipe Size
 Thickness
 Speed
  Main
 Power
 Welding
  Power
WG-16
Φ0.3~ Φ1.0inch
(Φ8mm~Φ25mm)
7×7mm
20×20mm
0.3 ~ 1.2mm
100m/Min
22Kw
60Kw
WG-25
Φ0.3~ Φ1.2inch
(Φ8mm~Φ32mm)
7×7mm
25×25mm
0.3 ~ 1.5mm
90m/Min
37Kw
100Kw
WG-28
Φ0.5~ Φ2.0inch
(Φ13mm~Φ50mm)
10×10mm 40×40mm
0.5 ~ 1.8mm
90m/Min
75Kw
100Kw
WG-32
Φ0.5~ Φ2.5inch
(Φ13mm~Φ63.5mm)
10×10mm 50×50mm
0.5 ~ 1.8mm
90m/Min
110Kw
150Kw
WG-50
Φ0.8~ Φ3.0inch
(Φ20mm~Φ76mm)
16×16mm 60×60mm
0.7 ~ 3.0mm
80m/Min
132Kw
200Kw
WG-60
Φ1.2~ Φ4.0inch
(Φ32mm~Φ102mm)
25×25mm
80×80mm
1.0~ 3.5mm
70m/Min
160Kw
200Kw
WG-76
Φ1.0~ Φ5.0inch
(Φ25mm~Φ127mm)
20×20mm
100×100mm
1.0~ 3.5mm
70m/Min
185Kw
200Kw
WG114
Φ1.6~ Φ5.0inch
(Φ40mm~Φ130mm)
35×35mm
100×100mm
1.5~ 5.0mm
60m/Min
160Kwx2
400Kw
WG155
Φ2.0~ Φ6.0inch
(Φ50mm~Φ155mm)
40×40mm
120×120mm
1.5~ 5.0mm
60m/Min
160Kwx2
400Kw
WG165
Φ2.0~ Φ7.6inch
(Φ50mm~Φ195mm)
40×40mm
150×150mm
2.0~ 6.0mm
45m/Min
200Kwx2
500Kw
WG219
Φ3.5~ Φ8.60nch
(Φ89mm~Φ219mm)
70×70mm
170×170mm
4.0~ 8.0mm
40m/Min
200Kwx2
600Kw
WG273
Φ4.0~ Φ10.7nch
(Φ100mm~Φ273mm)
80×80mm
215×215mm
4.0~ 12mm
25m/Min
320Kwx2
800Kw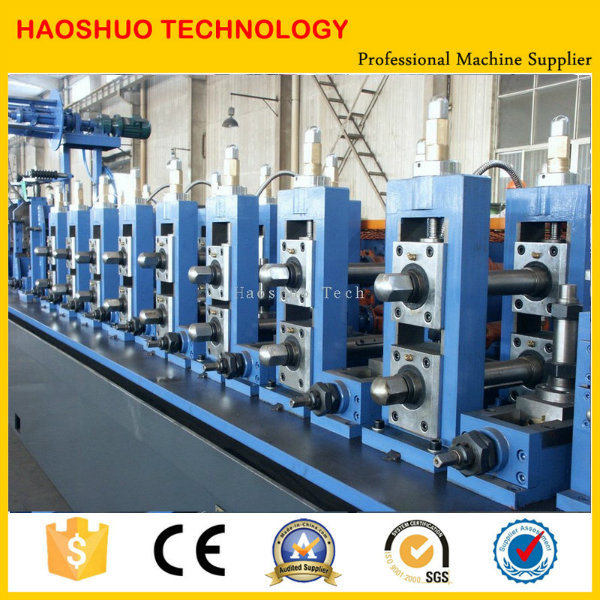 MM-Tech (Hebei MingMai Technology Co.,LTD) is the leading manufacturer of Pipe Fusion Welding Machine in China.
And our products has been exported to India,Columbia,Israel,Philippines,Indonesia,Chile,Peru,Ukraine & Russia and more than 40 countries.
We specialize in producing a complete range of international standard:DVS2207,Butt Fusion Equipment including Field Welding Machine, Workshop Fitting Machine, Pipe Saw, all the optional parts and tools required under the ISO9001 system and approved to CE standards by SGS.
Automatic Butt Fusion Welding Machine
Automatic Butt Fusion Welding Machine,CNC Butt Fusion Welding Machine,PE Pipe Welding Machine,HDPE Pipe Butt Fusion Welding Machine
Hebei MingMai Technology Co., Ltd. , http://www.buttfusionweldingmachine.com