The Beijing online marathon sponsored by Goodyear Tire is about to open on the online platform.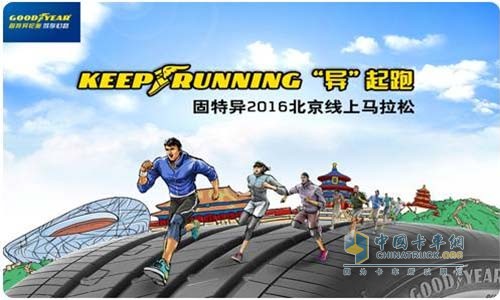 Goodyear 2016 Online Marathon
By then, it is expected that more than 300,000 people will participate in the running tour of the million people through different mobile phone apps in different locations. Goodyear will also embark on the dream together with you.
The event will be open on August 24th, 2016. By signing up for a one-click application on the mobile App, you can participate in the online marathon on September 17, 2016. By uploading the data of the day's running, there will be opportunities. Get exclusive medals.
Compared to traditional marathon events, online marathons are more flexible and free. For more sports enthusiasts, online marathons do not require the higher thresholds of traditional marathons, and they can be conveniently located at their own convenience.
At the same time, through the running record of the mobile phone App Run circle to complete their own marathon trip, this is a subversion of the traditional emerging marathon model, but also more in line with the young people's favorite life attitude.
At the same time, Goodyear, as a century-old enterprise, not only focuses on technological innovation, but also has always sought to innovate and breakthrough in various fields, and has continuously introduced new concept products that are more in line with contemporary concepts. In 1985, Goodyear was the first commercial radial tire supplier.
At the 2016 Geneva Motor Show 30 years later, Goodyear released two breakthrough concept tires at the 86th Geneva International Motor Show: the Eagle-360 spherical concept tire and the IntelliGrip concept tire.
As we all know, Goodyear's trademark "Flying Foot" originates from God Hermes in Greek mythology, which has a beautiful and quick meaning. This is exactly what the Goodyear Tire Sponsor online marathon event conveys, allowing each contestant to put on a "free-foot" and move forward freely.
Goodyear hopes to create a younger and more dynamic brand image through this event and better narrow the distance between the public and the owners. Sponsoring the Beijing online marathon is an important step for Goodyear to realize this vision. In the future, we will continue to work hand in hand with more activities. We will start small and solid and start different.
The most trustworthy and dependable partner of your life is your own body. The most powerful enemy in your life is your own soul. The greatest achievement in your life is to break through the limits of your self. The greatest gain in your life is the ability to have a group of friends who are running with you.
The Goodyear Beijing online marathon can capture all four.
Compared to the home, your life needs a cheery marathon at the moment.
Veterinary Drugs refers to substances (including medicated feed additives) used to prevent, treat, and diagnose animal diseases or to purposely regulate the physiological functions of animals.
Veterinary drugs mainly include: serum products, vaccines, diagnostic products, microecological products, Chinese Medicinal Materials, Chinese patent medicines, chemicals, antibiotics, biochemical drugs, radioactive drugs, external pesticides, disinfectants, etc.

Veterinary Drug Intermediates,Oxazolo Pyridine One,Pharmaceutical Intermediate Oxazolo Pyridin One,2-Chloronicotinic Acid Intermediate
Sunrise Group Corporation , https://www.sunriseindust.com