According to reports, with the continuous advancement of autopilot technology, major car companies and designers are racking their brains and trying to expand the technology to new applications. Daimler is developing autopilot for heavy-duty vehicles. The company recently focused on a road test for the utility vehicle, the airport snowplows.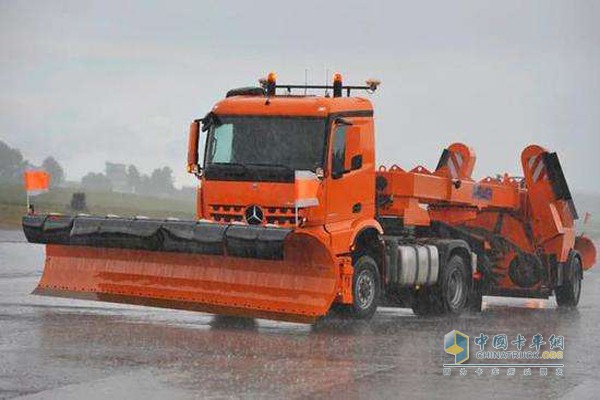 Daimler snow shovel
The airport is a closed system. Most modern airports are equipped with GPS devices and other technologies to indicate the location of the runway and related information. Daimler believes that the company is ready for the automatic driving of snow shovels. For this purpose, the company conducts road tests on its self-propelled snow shovels at the former Pferdsfeld airbase in Germany. The project was named Automated Airfield Ground Maintenance (AAGM).
The project invested in four Mercedes-Benz Arocs tractors and converted them into snow shovels. The advantages of this idea are obvious, because the importance of snow removal operations is very important for airport operations. The use of self-propelled snow shovels will save a lot of manpower and time, and may also improve the accuracy of snow shoveling operations and reduce costs.
The project was completed by Daimler's Lab1886 Innovation Incubation Base and Fraport AG, the world's largest air traffic hub. The two sides jointly conducted road tests for self-driving snow shovels, involving several core R&D fields, many of which are new areas that Daimler never stepped into.
Daimler has been developing the self-driving heavy-duty commercial vehicle for some time. However, the project also involved vehicle control technology based on onboard information systems. Daimler had not been involved in this area since it also involved remote control operations. Daimler called it Remote Truck Interface (Remote Truck Interface, RTI).
Remote control of the vehicle enables data exchange between trucks, allowing the controller to control multiple trucks at the same time (up to 14 vehicles). With the HPC system, the team's lead trucks can be set up and other vehicles can be followed to form an autonomous driving fleet. The control personnel can also achieve this function through a safe closed-loop control system.
The RTI design uses dual GPS tracking technology, workshop communication technology, and secure connection of remote control devices to enable complete data exchange between vehicles. With digital short range communications (DSRC) technology, the data exchange interval is 0.1 seconds.
According to Daimler's vision, the autopilot snow scraper is just an attempt and start. With the help of precise remote control technology, the relevant snow shoveling operation will be completed, and all the runway maintenance operations may be completed in the future. According to the company, in the future, the technology may be extended to mining, container terminals and other applications.
it is full range of Piston Skirt for the following type :
AAA) YANMAR DIESEL ENGINE
K(D)L, KFL-T, 6MAL-H/T/HT/DT, S165-T/ST/EN,
S185-ST/UT/ET, M200L-UN/SN/EN/M220L-UN/SN/EN / N 330

BBB) DAIHATSU DIESEL ENGINE
PS22/26/ DS18(A)/ DS(B)22/
DL20/22/28/ DK20 / DK 28

CCC) NIIGATA DIESEL ENGINE
6L(M)25BX/6M28AFTE/BX/6M31X/EZ/EX/ 31AFTE /34AGT

DDD) AKASAKA
AH30/AH38/ AH40/D/F/ A31/34/37/41/ DM28/30/33/36/38/40(A)K/ DM46/ UEC37H-HB/ UEC 37/88H
UEC 37LA/ UEC45LA/ UEC52LA/ UEC52HA/ UEC60HA/ UEC60LS/ UEC45HA/115 ALL UET TYPE

EEE) MITSUBISHI (KOBE AND AKASAKA )
45/75C/ 45/80D/ 52/90D/ 52/105D.E/
UEC37H-IIB/ UET37/88HA/UEC45HA.LA/ UEC52HA.LA/ S6B/
ETC

FFF) HANSHIN
6LU(D)26/ 6LU(N)28A/ 6LU(D)32/6LU(D)35/ 6LU(S)38/ 40 / 6LU40/ 6LU46A/ 6LU50A/
6EL30/ EL(S)32 /6EL(S)35/ 6EL38/ 6EL40/ 6EL(S)44/50A/
GGG) MAN B&W
S35MC/L35MCE/L50MCE/ L60MCE/ 40/54A

HHH) MITSUBISHI PURIFIER
SJ700~SJ1800/SJ 2000
III)SULZER
RND 68 RND 76 RD 44
JJJ) MAKITA
GSLH – 633 637 KSLH -633 637
Kkk) PIELSTICK
PC 2-5 PC 2-6
Piston Skirt,Engine Piston Skirt,Diesel Engine Piston Skirt
ZhouShan HeCheng Machinery Co., LTD. , http://www.hcmarineparts.com